Magnolia Arts Sheet music
Music for solo classical guitar

The following pieces were arranged or composed by Tim Brace. The scores on this page that are not marked "FREE" can be downloaded but are incomplete. To receive a complete and printable version, send me a check or money order (US$) - or click on "Add to Cart" and use PayPal to purchase the piece. I will receive an email from PayPal and will email you the score(s) as soon as possible (usually within 24 hours). If you pay by check or money order, send it to Magnolia Arts, 2517 Weeping Beech Lane, Pflugerville, TX 78660. Be sure to tell me which piece(s) you are purchasing.

Tim Brace retains all rights of publication and all relevant copyrights. It is a violation of these rights to distribute copies of any of these pieces. For any piece that you purchase, you may make an appropriate number of copies for your own use only. These files usually look better printed out than they do on your monitor.
Some pieces have links to downloadable audio files. Some are from the recordings By My Side, Music for Solo Guitar, or Songs of Healing (all available from this site); others are midi files. The midi files are offered to give you an idea of the arrangement; keep in mind that they are products of a computer, not of a performer.
Please bookmark this page and revisit this site regularly. New pieces are being added as they are written or arranged. The last piece added was " Romance No. 1".

Great News! Now the tracks from the cd Music for Solo Guitar are available from the iTunes music store in mp3 format; if you have iTunes, just click here. (new window)

Tim Brace's email address: brace "at" magnoliaarts.com (replace "at" with @)
Secular Pieces
Notes
Shenandoah
A sensitive setting of the American folk song. $3.00 US (.mp3 excerpt -- new window)
Early Studies 1-10
Good introduction to modern expanded tonality for 1st or 2nd year students. $5.00 US


Be honest now, are you training your students to understand 20-21st century tonalities?

Chaconne by Ennemond Gaultier

FREE

Charming 17th c. French lute piece in style brise
Preludes No.1-5
Five intermediate level preludes. The first two are character pieces; the last three are meditations. $5.00 US. Here's an excerpt from Prelude No.2 (.mp3 -- new window)
Rondeau by Logy


FREE

Nice piece by well-known 17th century lutenist (.mid)
Fantasia by Fuenllana

FREE

In the Netherlands style by the 16th century Spanish vihuelist (.mid)
Allemande by deVisee

FREE

Theorbo piece by a leading French composer.
Rhapsody for a Dancer

Free-wheeling, programmatic, expressive piece. Intermediate/advanced. $3.00 US (.mp3 excerpt -- new window)
Courante by duBut le Pere

FREE

An elegant courante from 17th century France. Intermediate
Song Without Words No. 1
Wistful piece, written as a farewell to a friend. Intermediate. $3.00 US (.mp3 excerpt -- new window)
Song Without Words No. 2
A love song for solo guitar. Subtle, lilting South American feel. Intermediate. $3.00 US
Song Without Words No. 3 (Prayer)
An original piece of moderate difficulty. Gentle, expressive. $3.00 US (.mp3 excerpt -- new window)
Sonata Allegro

FREE



A piece in sonata allegro form in the style of Giuliani. Great fun! (.mid)

Wayfaring Stranger

An old folksong. $3.00 US (.mp3 excerpt -- new window)
Tejana

A solo version of an award-winning guitar quartet piece. Intermediate to advanced. $3.00 US

Tune for Conor

A lyrical piece with a slight jazz sensibility. Intermediate. $3.00 US

Recit du Pecheur (added 5/05)

FREE



transcription of de Falla piece from El Amor Brujo

Miniature No. 1 (added 7/05)

FREE



The first piece I ever wrote for guitar solo; it's a bit of work for 35 seconds of music, but then you could always play through it twice!

Lute Transcriptions I

A set of 5 Baroque lute pieces transcribed for guitar. Weiss, Tauseana, Lauffensteiner. Intermediate. $3.00 US
Five Small Pieces for Guitar (added 2/06)

FREE



A set of expressionistic pieces I wrote while very much under the influence of the Second Viennese School of Schoenberg, Berg, and Webern. Each piece is a minute or so in duration. Here's an mp3 (unmastered) of the first piece.

Nocturne (Love's Wisdom)

A love song. Allusions to and influences from Cuban folksongs, S.L.Weiss, and Impressionism. Intermediate. $3.00 US.
Romance No. 1

This started out as an improvisation; it still has a very free, romantic, rhapsodic sense to it. Intermediate. $3.00 US.

GET EVERY PIECE ON THIS PAGE!



a printable copy of every piece on this page -- secular, sacred, the works! A $64 value for only $25. I will email them all to you.

GUITARISTS: are you experiencing pain when you play? Find out about the Alexander Technique, a century-old practice of physical re-education invented by an actor and currently used by performing artists throughout the world. Click here for more information. (new window)

Links to other online guitarist/composers:
For a comprehensive online catalogue of music for classical guitar, visit the GuitarGallery (click on the image)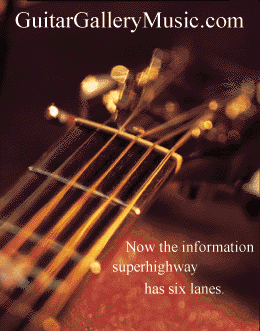 22369
Last updated 02/2012