Magnolia Arts Sheet music
Music for classical guitar in ensemble
The following guitar in ensemble pieces were composed by Tim_Brace. The scores on this page can be downloaded for free but are incomplete and are protected from being printed out. To receive a complete and printable version, send me a check or money order (US$) - or use PayPal if available below. I will then send you a printable copy in PDF as an email attachment or on a diskette (whichever you prefer). If you pay by check or money order, send it to Magnolia Arts, 2517 Weeping Beech Lane, Pflugerville, TX 78660 (USA). Be sure to tell me which piece(s) you are purchasing.

Tim Brace retains all rights of publication and all relevant copyrights. It is a violation of these rights to distribute copies of any of these pieces. For any piece that you purchase, you may make an appropriate number of copies for your own use only. These files usually look better printed out than they do on your monitor.
Some pieces have links to downloadable audio files. These are midi files. The midi files are offered to give you an idea of the arrangement; keep in mind that they are products of a computer, not of a performer.

Pieces
Notes
Guitar Quartet No. 1

A three movement

guitar quartet

for intermediate/advanced players. $15.00 US full score and parts.
midi files: I II III

Tejana: Romanza for Four Guitars

A single movement piece for

guitar quartet

that won First Prize in the Austin Guitar Society's Composition Competition for 2004-2005. For intermediate players. $10.00 US full score and parts. (.mid)
Fantasy on a Shaker Hymn


Guitar quartet

based on the American Shaker tune "Simple Gifts." For intermediate to advanced players. $10.00 US full score and parts. (.mid)

Rondo for Four Guitars: a Love Song


Guitar quartet

for intermediate players. $10.00 US full score and parts (.mid)
En Frolyk Weson

An arrangement, for

guitar duet

, of a 15th century song by Barbireau.

FREE

and complete version. The approach taken here was that of making an arrangement for two Renaissance lutes, so there are some cadential roulades added. A fun piece for intermediate or advanced players. (.mid)

Sevillanas (vln or flute/gtr)

A short dance for

violin and guitar

(or

flute and guitar

) that was written as incidental music to F. Lorca's

Blood Wedding.

Very rhythmic and aggressive, in a modern harmonic idiom. $3.00 US (.mid)

Water Over Glass


Guitar quartet

in the style of Glass, Riley, Reich, etc. (i.e., minimalistic). Should be playable by first or second year students. A fun piece and a good introduction to an important modern musical style. The full score is no longer available from this site; the rights have been purchased by The Childbloom Company. Please contact The Childbloom Company for further information.

Sonata for Flute and Guitar

Three movement piece for

flute and guitar

; A true duet (the guitar is not just accompaniment). Written in a modern expressionist style (lyrical, but lots of dissonance). $5.00 US Here are some VERY LIFELESS midis to give you some idea of the piece: mvmt1 mvmt2 mvmt3

Spanish Dance No. 2 (Granados)

Transcription, for

guitar duet,

of this wonderful piece originally for piano. FREE

and complete version.



Variations on a Shaker Theme(fl/gtr)

A small set (about 6 minutes) of variations on the American Shaker tune "Simple Gifts." For

flute and guitar

. The theme is at the end. The variations are in a very expanded tonality, but very lyrical. For intermediate to advanced players. This is a true duet, not for flute and "accompaniment." Here is a midi file of full piece -- note that it does not accurately render many of the more interesting timbral features of the piece (pizzicato, harmonics) but gives somewhat of an overall feel. $5.00 US (.mid)

Zarabanda Vivo (guitar duet)

A fast, sensuous, perpetual motion piece in a very expressionistic style; for

two guitars

. Intermediate to advanced players. Here is a midi file of the full piece -- again, note that it does not accurately render many of the more interesting timbral features of the piece (pizzicato, harmonics) but gives somewhat of an overall feel. $5.00 US (.mid)

For a comprehensive online catalogue of music for classical guitar, visit the GuitarGallery (click on the image)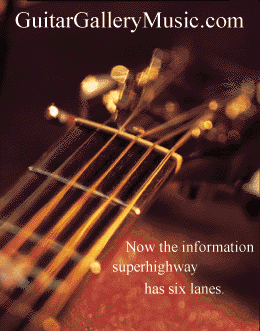 13498

Last updated 7/2008